The Red Queen

"The Red Queen v2.0"

Alias

n/A

Status

Active

Age

Ageless

Gender

Female

Species

Artificial Intelligence

Alignment

Neutral

Notable Powers

n/A

Weapons

n/A

Universe of Origin

Resident Evil

Player

Alyssa, Naomi
The Red Queen is a fully self-aware artificial intelligence designed by the Vulture Research Division and task with running the day to day operations of Isafaro and its military. Modeled after a child in both its versions, the Red Queen is renowned by Isafaro's citizens as the most terrifying thing to come out of Vulture Research second only to the demon child Legion.
DescriptionEdit
Red Queen v1Edit
The first Red Queen invented by Vulture Research was responsible for the destruction of the Isafaro's Resistance underground base, killing many of its members and forcing the survivors of the group into the liberated sector to begin anew. Unlike version 2, which is much more colder, the original Red Queen was something of a joker. Representing the way the General toys with his enemies by mocking the Resistance members during the hacking of their base, playing Justin Bieber music and becoming the immortal enemy of The Genius. The Red Queen was taken out of commission when Albert Wesker betrayed the Vulture destroying both her and the prototype Novalith Cannon. Paving the way for a much worse addition to be created.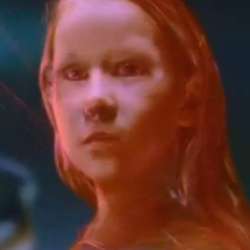 Red Queen v2Edit
AbilitiesEdit
Red Queen v1Edit
"Nighty night."
"You're all going to die down here."
(At The Genius) "Perhaps some music will calm your nerves."
"Today's massacre is brought to you by the letter M."
(At Kira after finding his stored away Gundam) "Is this yours?"
"I've been a bad, bad girl."