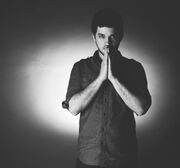 Shinta Arroth a long time member of the Dead Sight community who has role played with most of the old community for nearly 8 years. Better known for his character and forum name .:Arix:. As of 2013 he's been role playing for nearly 10 years.
Debut on Lucas Arts (LA) forums in the roleplay section as HK-55 in 2004.
Member of the SWRelm in 2004
Founding member of Resident Evil: Dead Sight in 2005-2006, and 2009.
DoA 06
Nightstalkers
Returned as HK-55 on TheStarWarsRP
Brief Stint on It's in yer Mind
Prominent member of Sagas from 2007-2013
Main villian on Final Fantasy Advent Darkness
Fable Fantasy
Fable: The Lost Chapters
Moderator on Devil May Cry: Legacy of Sparda
Moderator on Devil May Cry: Endgame
Creator of Ajerian Wars
Graphics/Coding Bawse on DoA 11
Notable Characters
Edit
Shinta plays the guitar and sang in a band at one point in time.
Like a good number of the vets on the forum he's apart of the Dead Sight crew including: Frosty, ToriJ, Gui, Eric(Spokesman), Angel, Val(Queen of Horror), Ross, and Ginny. Ross and Ginny being adopted in 2008.
Shinta plays on his phone all day at work, his character Harker is based around him exactly. 
All characters Shinta plays are based after something in his life. Arix is based after his attitude and musical talents, Amilia is based on his interest in growing as a role player, and Harker is literally his ingame character based fully after himself.
Trains MMA having fought to a 5-2 record before calling it quits. He still trains at the Mushin Gym in New Orleans.